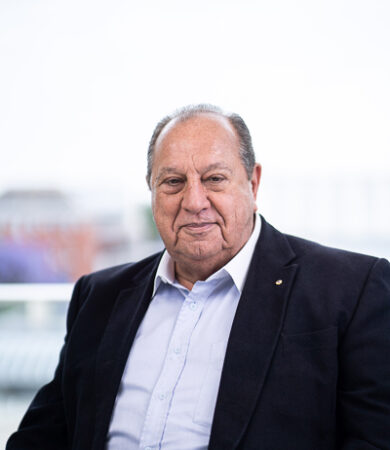 Theo Maras
AM, OLJ, Chairman
Theo is the founder and Chairman of Maras Group, formed (in July 2006) following a separation from the Mancorp Group, a very well-known and respected property investment and development group which commenced business in 1980. Theo, who represented one half of Mancorp, has been instrumental in shaping development in South Australia since the early 1980's.
Theo's expertise is exceptionally broad and varied. His main skills rest in design and construction but he is also highly accomplished in issues relating to planning, leasing and management. He has been involved in almost all developments undertaken over the last four decades or so, both for Mancorp and Maras Group.
Importantly, Theo has successfully managed to entice and secure some big name operators, and others, previously not seen in the South Australian market place.
No longer involved in the day-to-day operations of the business, today, Theo chairs Maras Group's Board and sits on the Maras Group Advisory Board.
Theo is a genuine leader in the South Australian property market and community at large, and this is further supported by his extensive participation and involvement in the following:
Chairperson, Adelaide Central Market Authority (ACMA)
Founding Member, The Foundation for Hellenic Studies
Past Chair, Design Review Panel, Central Market Arcade Redevelopment, City of Adelaide
Past Member, Eighty-Eight O'Connell Development Project Reference Group, City of Adelaide
Past Board Member, Development Strategy & Policy Committee, City of Unley
Past Chairperson, The Foundation Australian Centre for Child Protection
Past Chairperson, Heritage Foundation, The University of Adelaide
Past Foundation Fellow, Australian Institute of Company Directors
Past Member, Royal Australian Institute of Construction
Past Chairperson, Rundle Mall Management Authority
Past Board Member, South Australian Government Expert Panel on Planning Reform
Past President, Greek Orthodox Community of South Australia Inc.
Past President, Ridleyton Greek Home for the Aged
Past President, Federation of Greek Orthodox Communities of Australia
Past Chairperson, Common Ground
Past Chairperson, Unley Business & Economic Development Committee, City of Unley
Past National Member & State Coordinator, World Council of Hellenes Abroad (S.A.E.)
Past Board Member, The Foundation for Hellenic Studies
Past Board Member, Helpmann Academy Foundation Board, Helpmann Academy
Past Board Member, State Library of South Australia Foundation
Past Board Member, Urban Renewal Authority
Past Board Member, Land Management Corporation
Past Board Member, South Australian Affordable Housing Trust Board
Past Board Member, South Australian Urban Land Trust
Past Member, Norwood Economic Development Board, City of Norwood Payneham & St Peters
Past Member, South Australian Development Assessment Commission
Past Member, State Planning Commission
Past Member, Joint Industry Committee on Planning
Theo has received numerous honours, awards and accolades over many years including:
Member of the Order of Australia (AM)
Officer of the Military and Hospitaller Order of Saint Lazarus of Jerusalem (OLJ)
Justice of the Peace (JP)
Honoris Causa in Recognition of Contribution to Hellenism in Australia, The Embassy of Greece in Australia, conferred June 2015
University Fellow, University of South Australia (FUniSA), conferred 2015
Winner 2014 Great Entrepreneur Brand ICON Leadership Award, The BrandLaureate – Kuala Lumpur, Malaysia
Winner 2014 Silver Award, Chairman of the Year, The International Business Awards – Paris, France
Inducted 2013 Inaugural 'Property Icon', Property Council of Australia (SA Division)
Inducted 2013 Inaugural 'Property Leader' and Honorary Fellow, Australian Property Institute (SA Division)
Winner 2013 Outstanding Individual Contribution Award, East End Adelaide Association Inaugural Awards
Winner 2013 Outstanding Service Award, Business & Economic Development Committee, City of Unley
Theo continues to make a hefty contribution to the community at large and his involvement in the organisations and positions held, as listed above, is testament to his desire to give back to the community.