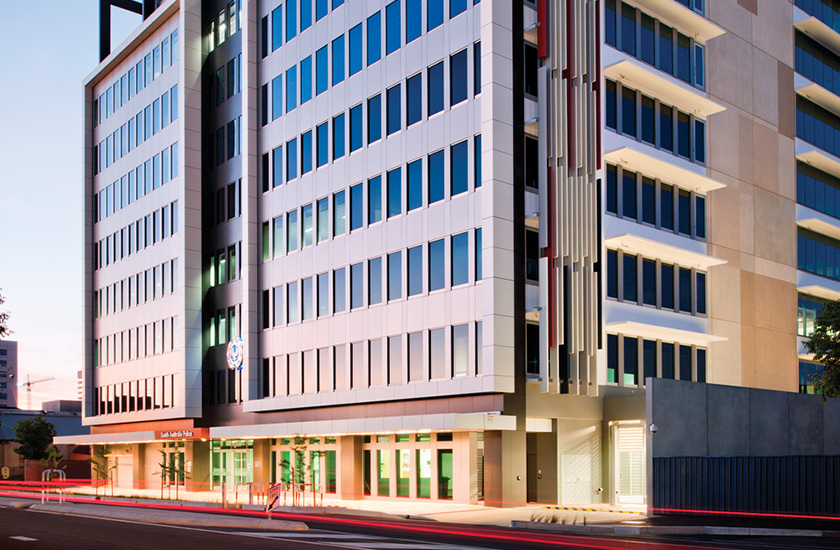 100 Angas Street, Adelaide
A Maras Group related entity had a substantial investment in the Commercial & General Office Trust, the owner of the South Australia Police Headquarters in Angas Street, Adelaide, completed in August 2011.
This state-of-the-art landmark building was pre-leased on a long term basis to the South Australian Government as the main headquarters for SAPOL. The project included delivery of the fit-out for SAPOL on behalf of the Department of Transport Energy & Infrastructure.
The purpose-designed building, which was engineered to meet the long term operational and security requirements of SAPOL, spans over ten (10) levels, with a lettable area around 18,900m2, and is supported by a basement car park, delivery zone and a welcoming lobby area.
The concept design, functions and workgroups located within the new headquarters reinforces the building as the centre for support and leadership of the police service and within the community.
The new SAPOL headquarters brought together staff previously located in at least four sites across Adelaide.
The building was the very first in South Australia to be awarded triple 5-star Green Star certifications in the categories of Office Design; As Built; and Office Interiors.
In 2012, the building was awarded a Certificate of High Commendation in the Professional Excellence in Building Awards of the Australian Institute of Building. These awards reflect the highest standards of building and construction management, research and development of building projects in Australia.
Building
11-storeys high and comprising secure basement carparking for 84 vehicles and approx. 189 bicycles
Lettable Area
18,900 sq.m